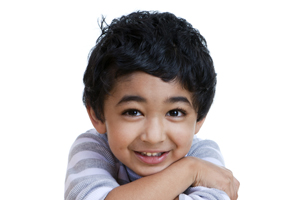 When should my child first see a dentist, and why?
The ideal time is six months after your child's first (primary) teeth erupt. This time frame is a perfect opportunity for us to examine the development of your child's mouth carefully. Because dental problems often start early, the sooner the visit, the better. To safeguard against issues such as baby bottle tooth decay, teething irritations, gum disease, and prolonged thumb-sucking, we can provide or recommend special preventive care.
How do I prepare my child and myself for a visit?
Before the visit, plan a course of action for either reaction your child may exhibit cooperative or non-cooperative. Very young children may be fussy and not sit still. Talk to your child about what to expect, and build excitement as well as understanding about the upcoming visit. Bring with you to the appointment any records of your child's complete medical history.
What will happen on the first visit?
Many first visits are nothing more than introductory icebreakers to acquaint your child with the dentist and the practice. If the child is frightened, uncomfortable, or non-cooperative, a rescheduling may be necessary. Patience and calm on the part of the parent and reassuring communication with your child are essential in these instances. Short, successive visits build the child's trust in us and can prove invaluable if your child needs to be treated later for any dental problem.
Young children's appointments should be scheduled earlier in the day when your child is alert and fresh. For children under 24-36 months, the parent may sometimes need to sit in the dental chair and hold the child during the examination.
If your child responds well, the first session often lasts between 15-30 minutes and may include the following, depending on age:
A gentle but thorough examination of the teeth, jaw, bite, gums, and oral tissues to monitor growth and development and observe any problem areas
If indicated, a gentle cleaning, which includes polishing teeth and removing any plaque, tartar build-up and stains
X-rays
A demonstration on proper home cleaning
Assessment of the need for fluoride
We will answer any questions you have and make you and your child feel comfortable throughout the visit. Our entire dental team and the office strive to provide a relaxed, non-threatening environment for your child.
When should the next visit be?
Children, like adults, should see the dentist every six months. Interim visits are sometimes recommended for every three months when the child is very young to build up a comfort and confidence level or to treat a developing problem.